Festivals & Awards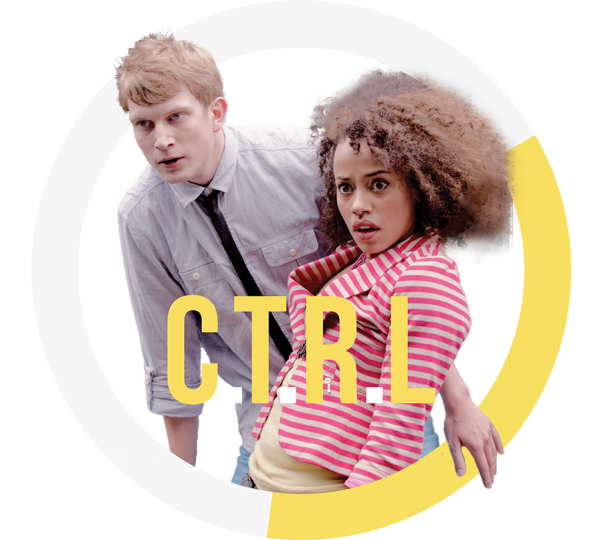 Released in March 2014, at 'Rincon' in Puerto Rico,  C.T.R.L has so far been selected for ninety five festivals and film events, including the BFI London Film Festival, Cineramabc and Bogotá Short Film Festival.
It was awarded Best International Music Video at GSFF in New Jersey, Best Film at Golden Blasters, the National Irish Science Fiction Film Festival, and Best Experimental Film at Wimbledon International Short Film Festival, amongst others.
It's versatile format appeals to a wide audience, who'll enjoy different aspects of the film: the dance, the music, the performances… At 'We Like 'Em Short' in Baker City, C.T.R.L was screened for it's comedy value; at the World Arts Festival in Florida for it's technique and at Fargo's Fantastic Film Festival for it's unusual narrative. The 'LA Femme', a festival showcasing films made "by women and for everyone to watch", also distinguished C.T.R.L with an Honourable Mention in shorts.
At NXNE's 20th anniversary in Toronto, it preceded the feature film 'Let's Ruin It With Babies', joining a group of carefully selected films, who share a common philosophy: Agile Filmmaking, inspired by web development techniques, which played a vital role in our film.
C.T.R.L's journey around the world has taken it from the UK to the US, India, Brazil, Mexico, the Philippines, etc, traveling from continent to continent, to a screen near you.
Awards
Best Music Video The European Film Festival Mainstream & Underground

Audience Award Shorts@Azores

Best Music Video Irvine International Film Festival

Best Music Video Los Angeles Spotlight Film Festival

Segundo Premio ( Music Video Category ) Certamen Internacional de Cortometrajes Roberto Di Chiara

Best Trailer Direct Short and Documentary Film Festival

Winner Best Film Golden Blasters

Best Experimental Film Wimbledon International Short Film Festival

Most Popular Award iChill Spanish Film Festival

Best Music Video TMFF, The Monthly Film Festival

International Winner - Music Video Garden State Film Festival

Best Music Video CortiSonanti

Honorable Mention Amarcort

Award of Merit – Women Filmmakers Accolade Global Film Competition Awards

Honourable Mention in Best Music Los Angeles Film Review

Certificate of merit Boston Science Fiction Film Festival

Honourable Mention in Shorts LA Femme Film Festival
Nominations
Best Experimental Project 12th Annual Action On Film International Film Festival and Writer's Event

Best Family Friendly 6th Annual Queens World Film Festival

Best Original Recorded Song International Filmmaker Festival of World Cinema

Festival Director's Choice Trail Dance Film Festival

Nomniated for Best Arthouse Corona Fastnet Short Film Festival

Nomniated for Best Music British Independent Film Festival

Nominated for Best Music Video Los Angeles Independent Film Festival (LAIFF) Awards
All Festivals
12th Annual Action On Film International Film Festival and Writer's Event

Best Experimental Project

Best Foreign Film

Best Female Filmmaker

Best Guerilla Film

Monrovia CA, USA:
2nd – 10th September 2016

Visit website

[opens in a new window]

Hampshire Film Festival

Portsmouth, UK:
26th - 28th May 2016

International Filmmaker Festival of World Cinema

Best Original Recorded Song

Best Editing of a Short Film & Best Short

London, UK:
18th – 25th February 2016

Visit website

[opens in a new window]

Somerset Film Festival

North Cadbury, UK :
27th & 28th October 2015

Sidewalkfest

Birmingham, Alabama, USA:
28 – 30th August 2015

Limoux en short

Limoux, France:
8-9th August 2015

Bahche New York Short Film Fridays Fest

New York:
2015